Bad Intentions
Availability ended 6/16/2023 EST

don't get killed by him
A lovely couple gets into some serious trouble when a murderer shakes things up in their life.
Birthday Cake
Availability ended 6/15/2023 EST

One cake. Two strangers.
Teenager Evelyn discovers that her birthday cake is being eaten by a lonely ten-year-old girl she's never met.
Blessed Are The Pure In Heart
Availability ended 6/15/2023 EST

Blessed Are The Pure in Heart
It's Serena's wedding day. The girl is worried about the absence of Nicola, her brother. She doesn't know that this day, which is so important to her, is not so joyful for Nicola.
Donna
Availability ended 6/15/2023 EST

A Super8 glimpse into the heart of a working mother's life
Told through stunning Super8 footage, "donna" is an intimate portrait of life as a working mother, a 50-year marriage, motherhood, and growing older. In conversation with her 20-year-old grandson, her life unfolds before us, with Donna reminiscing and offering her wisdom to all.
Forgotten Penance
Availability ended 6/15/2023 EST

Memories can sometimes be a prison
Matt has just been released from prison. He returns home to a father who is indifferent to him. His mother died while he was in jail. Through a flashback, we learn that Matt took the blame for a crime his father committed.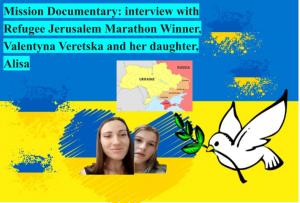 Mission Documentary
Availability ended 6/15/2023 EST

Mission Documentary: Interview with Refugee Jerusalem Marathon Winner, Valentyna Veretska and her daughter, Alisa
It is hard to imagine leaving everything you knew behind because your basic rights were no more. Valentyna and her daughter, Alisa, shared their heroic journey as Ukranian refugees. Valentyna won the Jerusalem marathon just two weeks after February 24th, 2022, borrowing shoes and leaving her daughter in a brand new country while she flew to Israel to do so and to survive. Their tug to continue to help their hometown of Mykolaiv yet run for safety is utterly heartbreaking, yet unrelentingly brave. My documentary goals was and is to tell one story, help one family and continue to try to help them and tell their story amongst the millions of shattered lives. Dreams are shattered and forced to be reborn. This is their story and the start to their life as refugees.
Motel
Availability ended 6/15/2023 EST

Motel is the story of a young woman who, after traveling out of state to get an abortion, must spend the night at a motel and grapple with the decision that she's made. Isla has made a choice, and the weight of that choice hits her as the pressure from family and society seem to close in. As strange occurrences start to haunt Isla, she must do all she can to get through the night.
Office Life
Availability ended 6/15/2023 EST

Shut up Brian!
A mockumentary about a coffee-addicted office worker who goes through the trials and tribulations of a "hard day's" work.
Pinged
Availability ended 6/15/2023 EST

After a girl accidentally reveals her location through a mysterious link, she must escape her internet stalker.
When a girl is sitting home alone, she receives a suspicious link from her friend. After clicking on it, she is told that it can track her location. Soon after, a mysterious figure appears in her driveway. She has to think fast in order to escape the possibly dangerous man. This story tells the dangers of social media especially within teenagers and how easy it is to be infiltrated through digital communication.
The Plight and Desertion of Arthur Leigh Hazelwood
Availability ended 6/15/2023 EST

A man went into the Desert for his country and ended up making his own.
To the Border! Arthur L. Hazelwood joins the Army to prove himself; however upon seeing combat against the Villistas in 1916, he decides to desert and forge his own piece of the world.
Pretense
Availability ended 6/15/2023 EST

Movie night, gone wrong.
A couple gets into a heated argument about movies.
Return to Sender
Availability ended 6/15/2023 EST

Special Delivery?
A mailman delivering a package on his usual route discovers that one of the houses is being robbed.
She Said She Liked Horror
Availability ended 6/15/2023 EST

She said she liked horror...
After a failed date, two college students return to their roommates to recount the experience
You're Late
Availability ended 6/15/2023 EST

Drama, Friendship, Mental health, Loss
Clara loves Mara, she is her BFF. But Mara is always late making Clara wait for her, creating a rift in their relationship.