Donna
A Super8 glimpse into the heart of a working mother's life
Told through stunning Super8 footage, "donna" is an intimate portrait of life as a working mother, a 50-year marriage, motherhood, and growing older. In conversation with her 20-year-old grandson, her life unfolds before us, with Donna reminiscing and offering her wisdom to all.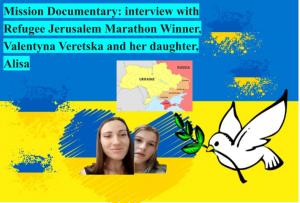 Mission Documentary
Mission Documentary: Interview with Refugee Jerusalem Marathon Winner, Valentyna Veretska and her daughter, Alisa
It is hard to imagine leaving everything you knew behind because your basic rights were no more. Valentyna and her daughter, Alisa, shared their heroic journey as Ukranian refugees. Valentyna won the Jerusalem marathon just two weeks after February 24th, 2022, borrowing shoes and leaving her daughter in a brand new country while she flew to Israel to do so and to survive. Their tug to continue to help their hometown of Mykolaiv yet run for safety is utterly heartbreaking, yet unrelentingly brave. My documentary goals was and is to tell one story, help one family and continue to try to help them and tell their story amongst the millions of shattered lives. Dreams are shattered and forced to be reborn. This is their story and the start to their life as refugees.
Motel
Motel is the story of a young woman who, after traveling out of state to get an abortion, must spend the night at a motel and grapple with the decision that she's made. Isla has made a choice, and the weight of that choice hits her as the pressure from family and society seem to close in. As strange occurrences start to haunt Isla, she must do all she can to get through the night.
Pinged
After a girl accidentally reveals her location through a mysterious link, she must escape her internet stalker.
When a girl is sitting home alone, she receives a suspicious link from her friend. After clicking on it, she is told that it can track her location. Soon after, a mysterious figure appears in her driveway. She has to think fast in order to escape the possibly dangerous man. This story tells the dangers of social media especially within teenagers and how easy it is to be infiltrated through digital communication.
The Plight and Desertion of Arthur Leigh Hazelwood
A man went into the Desert for his country and ended up making his own.
To the Border! Arthur L. Hazelwood joins the Army to prove himself; however upon seeing combat against the Villistas in 1916, he decides to desert and forge his own piece of the world.